Disneyland Resort Update: The Return of the Main Street Electrical Parade
Disneyland Park, Anaheim, CA
Sit back and give this update a few moments to load, folks, because at its heart, today's post is basically just 100 instances of eye candy featuring the returning Main Street Electrical Parade, now running nightly at Disneyland Park until Sunday, June 18. Last Friday, after 21 years away from its birthplace, the Main Street Electrical Parade came home for its final run--a few more months of magic and nostalgia until it finally goes away forever. For reals this time (so Disney says).
This legendary parade started way back in 1972, and multiple generations of Disney fans have grown up under the spell of that charming synthesizer music and millions of colorful, sparkling lights. The Main Street Electrical Parade was the predecessor to sequels such as Tokyo Disneyland's Electrical Parade Dreamlights, or the former SpectroMagic at Walt Disney World, and the modern Paint the Night parades at Disneyland and Hong Kong Disneyland. It has dazzled and entertained millions over the years, and seeing it back where it all began is definitely a major nostalgia trip for those of us who watched this beloved spectacular when we were young.
The following photos were taken last Saturday, across both the early and late runs of the parade. On peak nights, the MSEP will run twice a night, similar to Paint the Night. From It's A Small World to Main Street at first, and then reversing route later. On less busy nights, it may only run once. But for those of you who may not be able to make it to the Disneyland Resort soon, or at all, enjoy this look at classic Disney magic and memories.
The Main Street Electrical Parade begins with the recognizable Casey Jr. Train chugging down the street.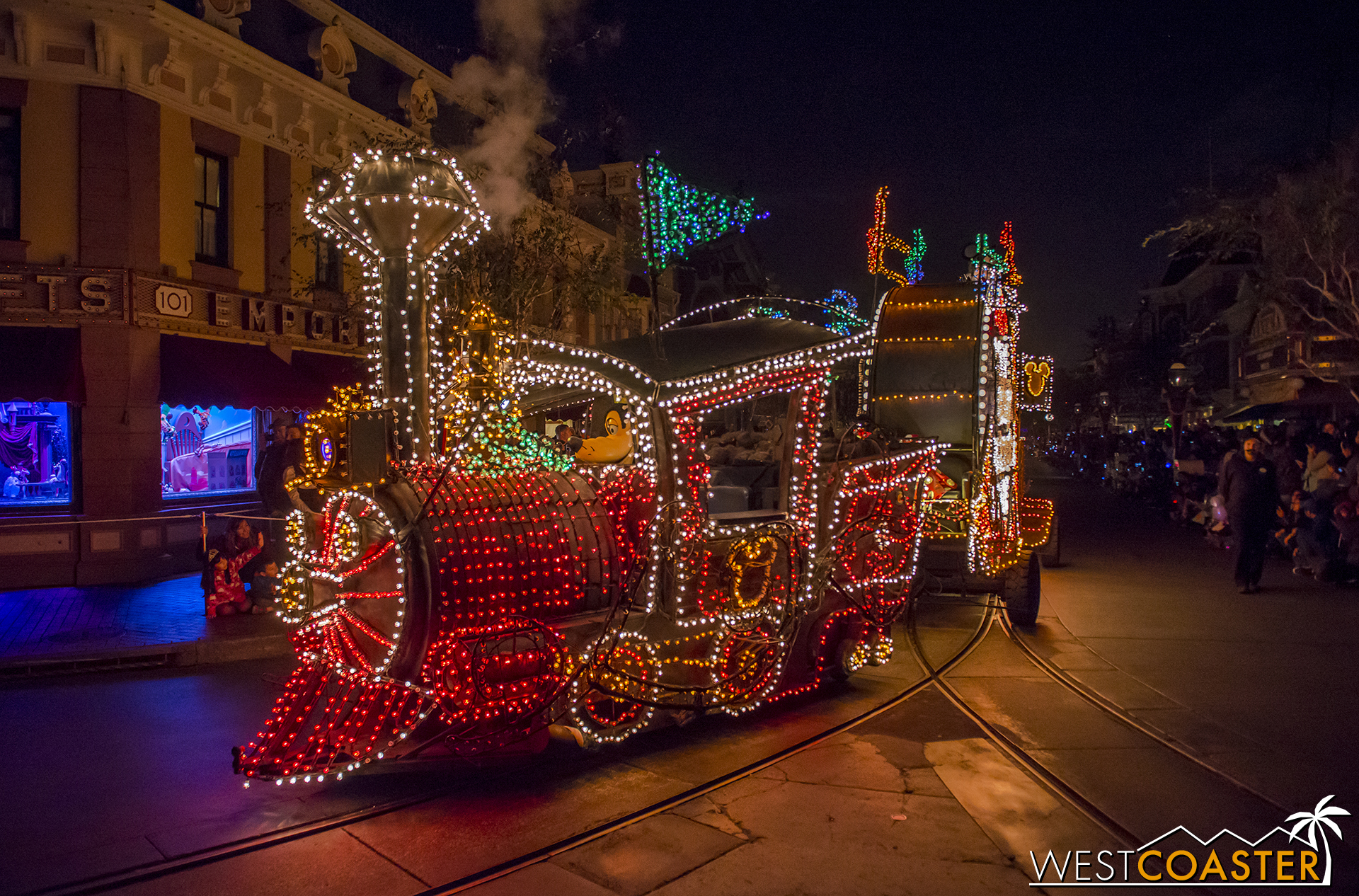 Mickey, Minnie, and Goofy ride along right at the start.
Minnie rides at the front of the classic parade marquee drum.
Mickey heads up the back.
Conductor Goofy cheerfully steers the parade true.
The classic and beloved whimsical animals are back.
As you may have noticed, this means the Blue Fairy that traditionally headed the parade is missing from this iteration.
But these little guys are pretty adorable and kind of make up for her absence.
Then comes the Alice in Wonderland segment in earnest, heralded by the White Rabbit.
Alice sits atop a toadstool, with the Chesire Cat below.
She's quite pleased to see the crowd.
The Chesire Cat occasionally blinks out to darkness--except for his trademark smile, of course!
Looking an awful lot like... erm... nevermind.
And there's Alice's Caterpillar.
Oh hey, it's another Turtle.
He stops every once in a while and spins around.
You can't help but love these guys.
And another happy little bee.
A Cinderella segment comes next, with Cindy's furry rodent friends in front.
They're dressed in regal attire.
Cinderella arrives with her driver.
And her Fairy Godmother bibbity bobbity boo's, right behind.
*princess hand clasp gesture*
Fairy Godmother's got those "suddenly surprised" eyes...
A royal court procession follows.
The dancers engage in synchronized motion.
Prince Charming looks for the owner of the slipper. Perhaps he should just look ahead.
Of course, Drizella and Anastasia pout.
Anastasia could pass for The Redhead from Pirates of Caribbean from this angle, couldn't she?
By their powers combined, more royal courtiers waltz.
Onto Peter Pan, with a Big Ben float.
The Chicken of the Sea fires off its cannons as the float rolls down Main Street.
There's Peter Pan and Captain Hook!
They're in their ever-passing duel.
"Take that, you codfish!"
Tinker Bell comes up next, preceded by her Pixie Hollow friends.
This Tink was particularly animated on this night.
This encouraged me to take a slew of photos.
They were difficult to cull through...
...and I loved all of her expressions.
So you get a bunch of these.
Tink can't explain why she's so popular.
But acting cute probably as something to do with it.
Seriously photogenic expressions both times through.
This is what I call a #SoKawaii pose.
The float itself is pretty dazzling, one of the best of the parade.
You can see a difference between this one and the older, more original floats.
The Snow White mine cart floats are similar newer looking and pretty colorful.
Dopey takes his train of treasures for a spin.
The silly and innocent dwarf seems to be having a blast.
I would too, if I had that much treasure.
The rest of the dwarves follow en suit. Doc, Grumpy, and Happy here.
Snow White breathing bokeh.
She is rather luminous. Certainly the fairest of them all.
Bashful, Sneezy, and Sleepy.
 
They get their own float.
He's run off to Pleasure Island with his soon-to-be-donkey friends.
 
I heard a friend mention that this crew is the same group of dancers in the Cars scene in Paint the Night.
I have no idea if they're the same as Lightning's "pit crew," but I could see a case for that, given their synchronized moves and style.
And then comes "The Creepy Float."
Also now known as the Donald Trump Float.
I'm not the only person to think that immediately, so don't blame me for ruining this parade.
Creepy Face has Pleasure Island trailing him.
Almost last but not least, we have the most iconic part of the parade.
It's Pete and his dragon, Elliott
Pete's Dragon may have been a flop at the theaters, but this float has been a constant of the Main Street Electrical Parade for many, many years!
Even after all these years, this float is pretty spectacular.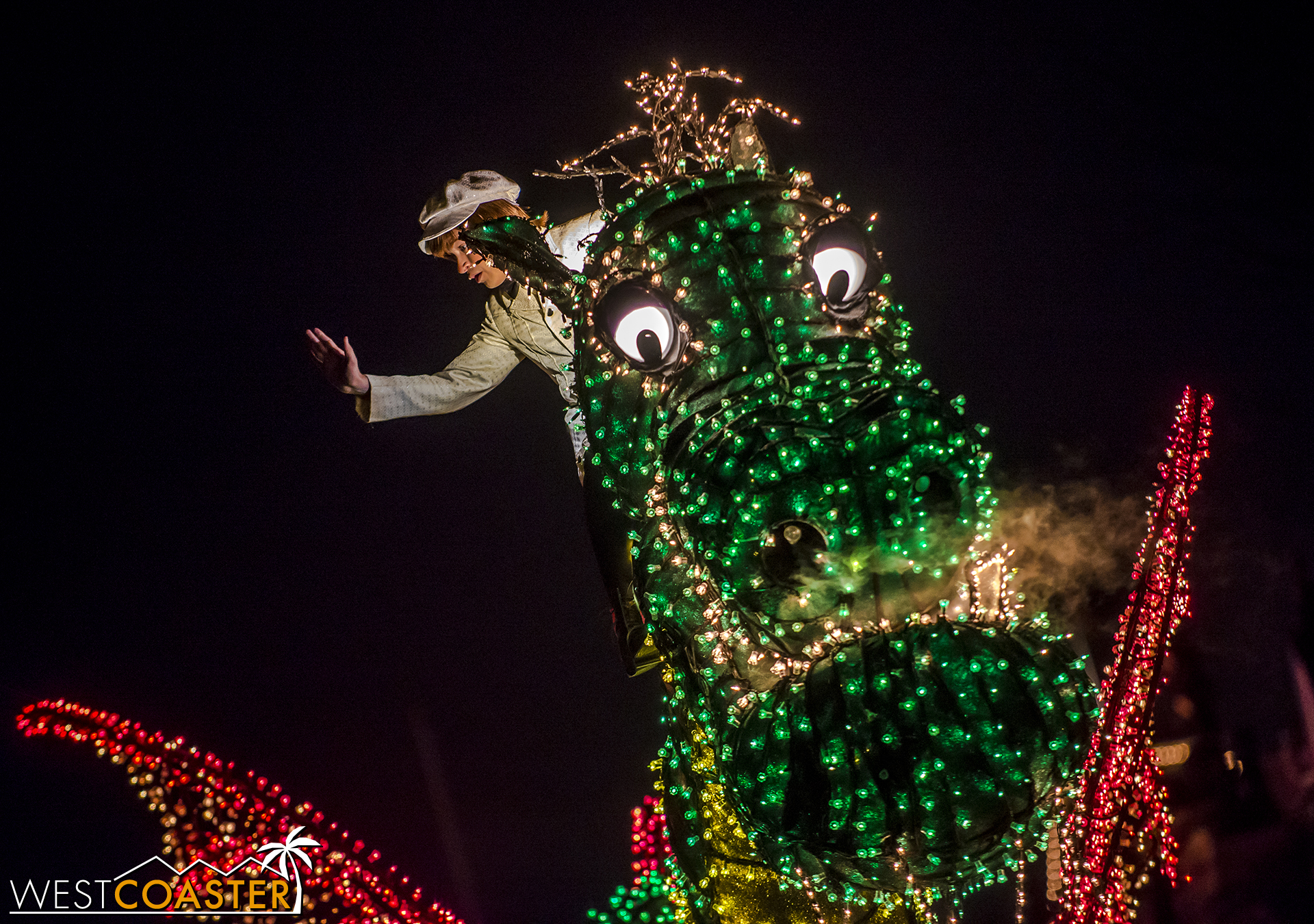 And Elliott is pretty cute.
Especially when he "talks."
And a lantern at his tail.
Elliott side profile as he rolls backstage in Town Square.
Finally, to honor all the countries in the world, but mostly America.
 
Here is the longest float in the parade.
Yes, nothing is more American than bacon, damnit.
And look how long this strip of bacon is!
And our bald eagle of freedom concludes the float and the parade.
...The Main Street Electrical Parade!!
That concludes our first five-update week of the year--with three of those coming from the Disneyland Resort. For locals with convenient access to the park, don't forget to stop by and check out the Lunar New Year festivities in addition to the returning Main Street Electrical Parade.
And for my fellow Asians out there (and anyone else who enjoys the celebrations), happy Lunar New Year's Eve today! Tomorrow, we welcome the Year of the Rooster--and not just any rooster, but the Fire Rooster (that's not a joke; the Chinese zodiac runs on a 12 year cycle but also runs through five elements for a larger 60 year cycle). Which basically means 2017-18 is the Year of the Sriracha. Not a bad thing, if I may say so myself!
Albert Lam
Architect. Photographer. Disney nerd. Haunt enthusiast. Travel bugged. Concert fiend. Asian.