Disneyland Resort Update: Lightspeed Construction
Disneyland Resort, Anaheim, CA
What do we want? More Disneyland Resort updates!!
When do we want them? Yesterday!!
Well, yesterday was about Knott's so your patience is being rewarded today, as we take a look at what has transpired at the Disneyland Resort since our last visit. And in a couple of words: a lot. "Star Wars" Land in particular seems to have undergone a noticeable spurt in the past ten days, with the First Order attraction gaining significant vertical square footage. Meanwhile, Guardians of the Galaxy has shed most of its scaffolding skin, which means the rush is primarily inside as the workers get the attraction ready for next month's re-debut. The Rivers of America continues to hum along as well. Only a few more months before everything there is scheduled to open!
"Star Wars" Land
Sooner or later, the view of progress from the Mickey and Friends parking structure is going to be inhibited as the First Order attraction grows taller and more expansive and starts to block sightlines of the main promenade of this future land. But for now, we can still see. That may not be for long, though, as the areas around what I've previously nicknamed the "pit" and the "trench" move upward. Plenty of structural steel framing has been added the past week plus, and foundation work is extending southward. Meanwhile, the bridge for the Disneyland Railroad under which the Critter Country entrance will pass has been progressing. And, we can see more groundwork around the Millennium Falcon site!
Fun fact: the time that these photos were taken are the earliest in the day that I've ever done for "Star Wars" Land.
Which really means just after midday.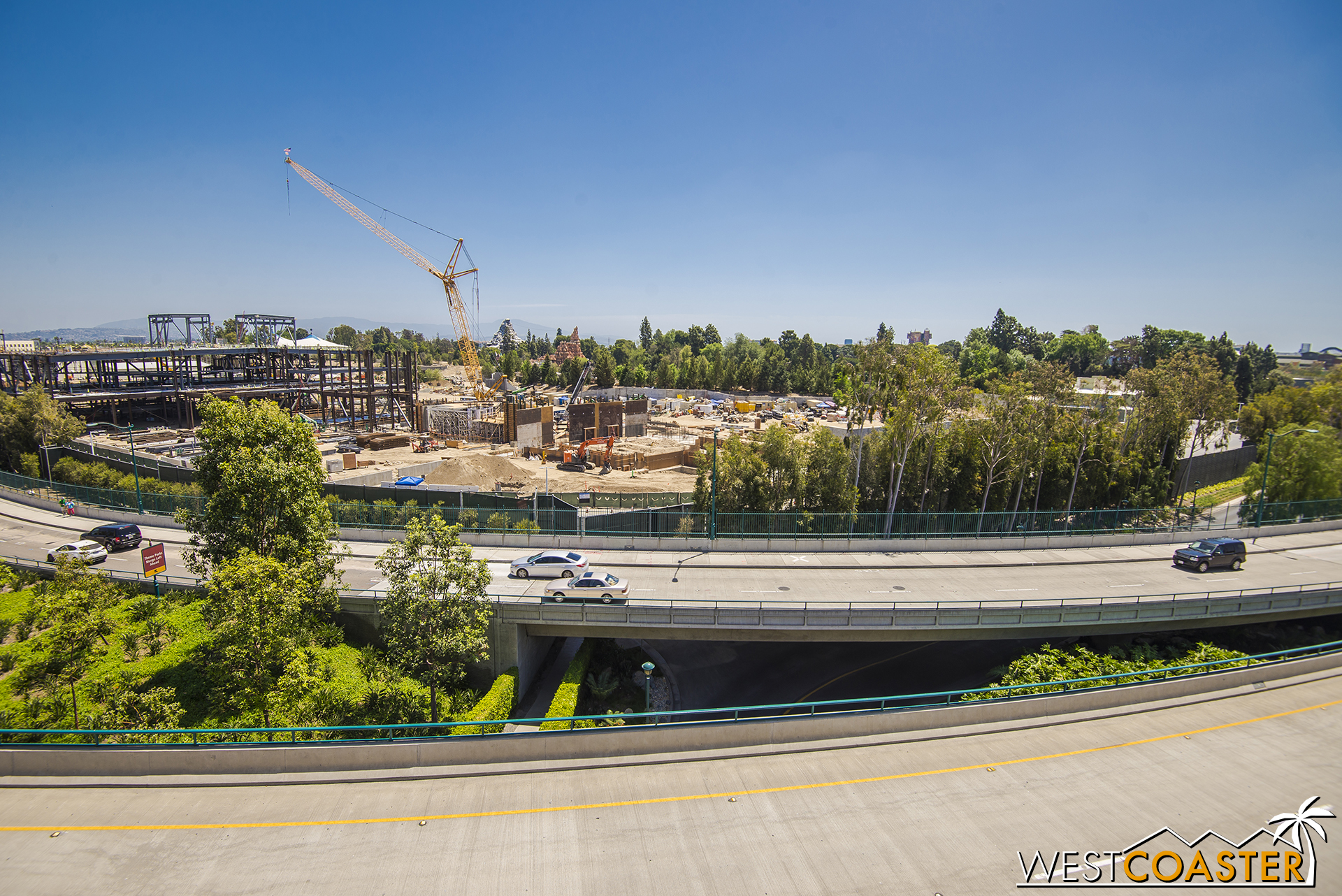 (I usually shoot closer to sunset.)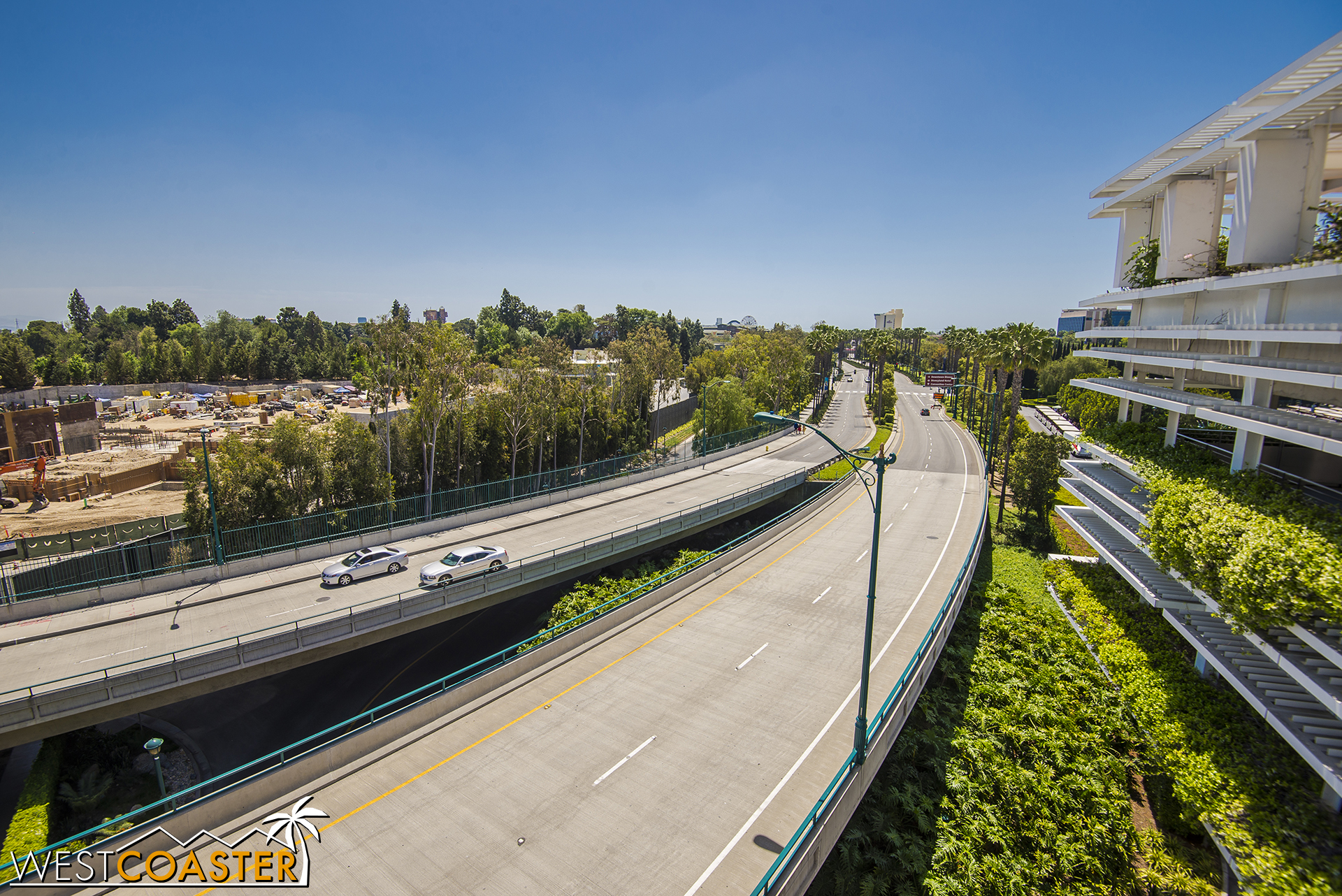 And if you can't tell, well, the shots are normally warmer.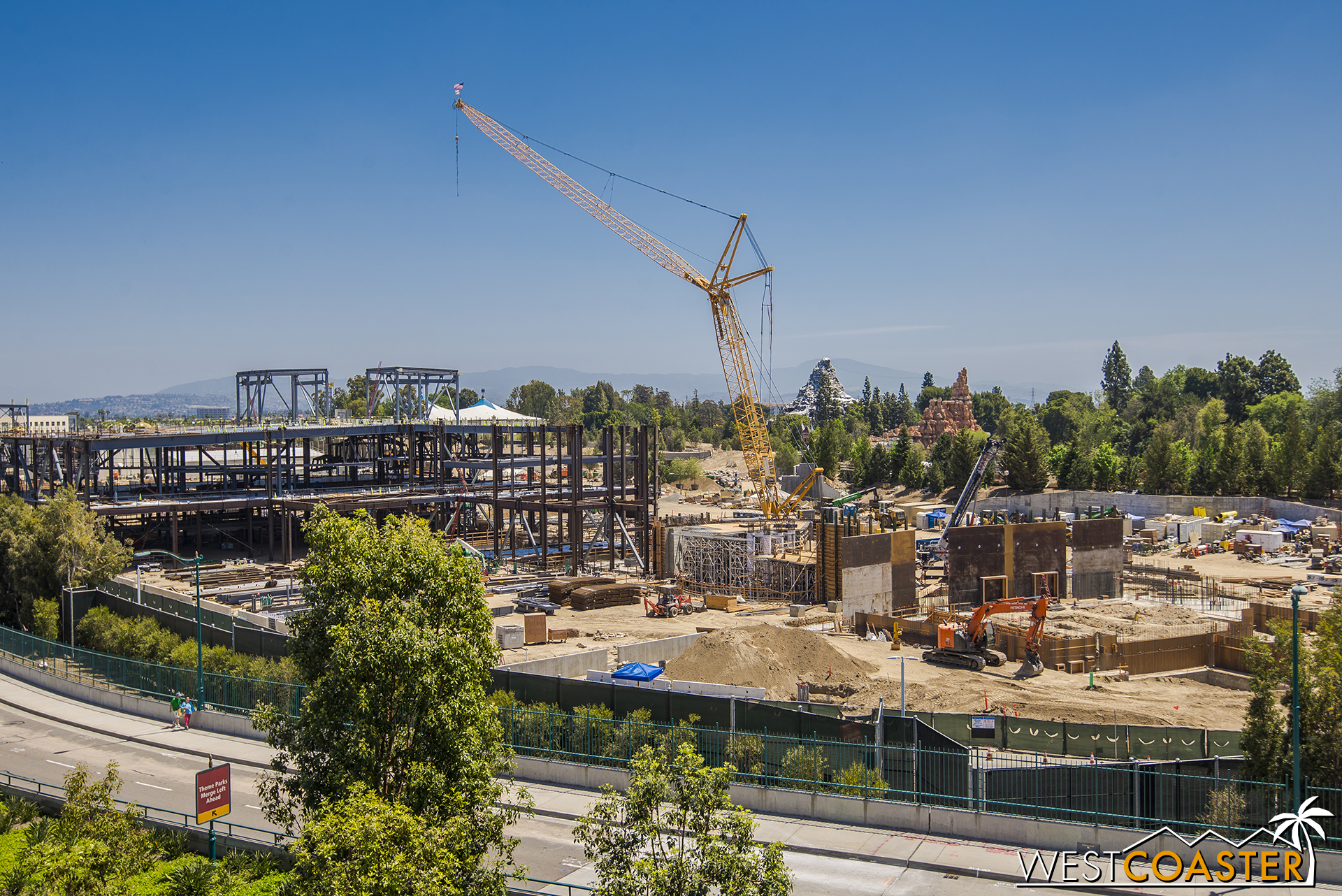 ANYWAY... take a look, and you can see a lot more vertical things even compared to just a week and a half ago.
This corner of the building is mostly the same, though there's more steel on the ground, and a bit of framing is extending outward on the right half of the photo.
But the big change is framing over what was formerly the "trench," or jokingly, the "First Order Olympic Swimming Pool."
More columns and braced frames coming outward, which really starts to reveal the massive scale of the First Order attraction.
That applies both horizontally and vertically.
Catwalks and things continue to proliferate "inside."
This building shows no signs of slowing down.
And around what used to be a pit, some very tall structures are shaping up.
And though it's tough to identify scale on a photo taken from so far away, let me assure you that the formwork for those concrete walls is pretty damn tall.
at least a couple of stories.
Getting mighty crowded inside there, though most of that is temporary scaffolding.
All of this is only now beginning to hint at the scale of the project.
And there's still more of the building complex to pour and build!
Like... Hans Zimmer Background Music epic.
More dirt getting dug up in what will be backstage area.
Lets head over to that other backstage building we've been covering for several months. It's getting skinned, but do you notice something else?
On the ground... that's formwork for the Millennium Falcon ride.
From the looks of aerial photos you can Google online, there will be two theater spaces, and the ride system itself might be something similar to Mission: Space at EPCOT. That would be pretty amazing.
Lets peruse the berm against the Rivers of America and Frontierland.
And they're becoming more and more blocked, but those concrete structures near the main entrance into "Star Wars" Land are continuing to go up and start getting masked behind rockwork.
And it seems like the trees separating the Rivers of America from "Star Wars" Land are starting to fill in more and more.
And as we pan over toward the Hungry Bear, despite the added foliage, we can sort of see the progression of the Disneyland Railroad bridge that will span over the Critter Country entrance into "Star Wars" Land.
Right there in the center... formwork for more concrete.
We'll connect the dots in the next section to show you how things will be working out.
Rivers of America
This part of park construction has always been in phases, and we're starting to see more finished work show up if you know where to look. The crest of the walkway around Splash Mountain allows one peek over the construction walls to the Rivers of America. The trees over by Big Thunder Mountain allow another. And the finished work we can see looks pretty nice and rustic, blending in well with the existing surroundings.
Now inside the park, lets take a look at the Rivers of America / "Star Wars" Land border from the guest side of things.
Over by Splash Mountain, we can see the rockwork continue along the Rivers.
The plastering looks pretty complete. It's onto painting and aging.
That railroad trestle will be lovely.
I can't wait to shoot this area from the river.
There's a little opening in the construction walls with the negative of a knot in a wood plank, and that gives people a peek into the happenings of the River.
More rockwork and river bank.
Peering over the work wall from the Hungry Bear walkway area.
And here you see the walkway to the lower level of the Hungry Bear. Well, there's about twice this width on the other side of the wall, and that will continue to slope down toward the waterfront along this route, then turn left and duck under the railroad before coming back up on the "Star Wars" Land side.
Seems kind of obvious in open daylight. I've just rarely been over here before it got dark to be able to take a clear photo.
Mr. Crane continues to be prominent from throughout the park.
Over on the Big Thunder Mountain side, those "garage doors" have been revealed to be retaining walls.
The Disneyland Railroad will be chugging by this area too.
You can see how things will mimick the red sandstone of Big Thunder Mountain from this side.
Peeking through a slot between the work walls, we see a little more detail.
Guardians of the Galaxy - Mission: Breakout!
The scaffolding is pretty much all down now. Exterior-wise, it appears that all that's left are the lowest building volumes. Only the construction walls remain in place, and that monumental schedule that Disney set to complete the exterior renovations certainly looks like it will be well completed by the time the ride's Memorial Day Weekend official opening date rolls around. Love it or hate it (and to be sure, many people are in the latter camp), the ride's not going anywhere. And I still think the actual experience and interiors will be pretty fantastic and enjoyable--assuming people can get over the wrapping.
So all the times I've photographed Guardians Tower since its facade began being revealed have been at golden hour.
Comparing those to these midday shots shows that the building really does have a noticeable glow to it when the sun gets low.
And despite the overall garish look of the building exterior, the glow does make for a good effect.
Anyway, here is Guardians Tower, in most of its glory--or infamy.
I mean, at least you can't say that this building isn't intricately detailed.
It just may be too intricately detailed.
"A lot of noise, not a lot of design," so to speak.
What would be cool is if the building receives special nighttime lighting that makes it luminescent.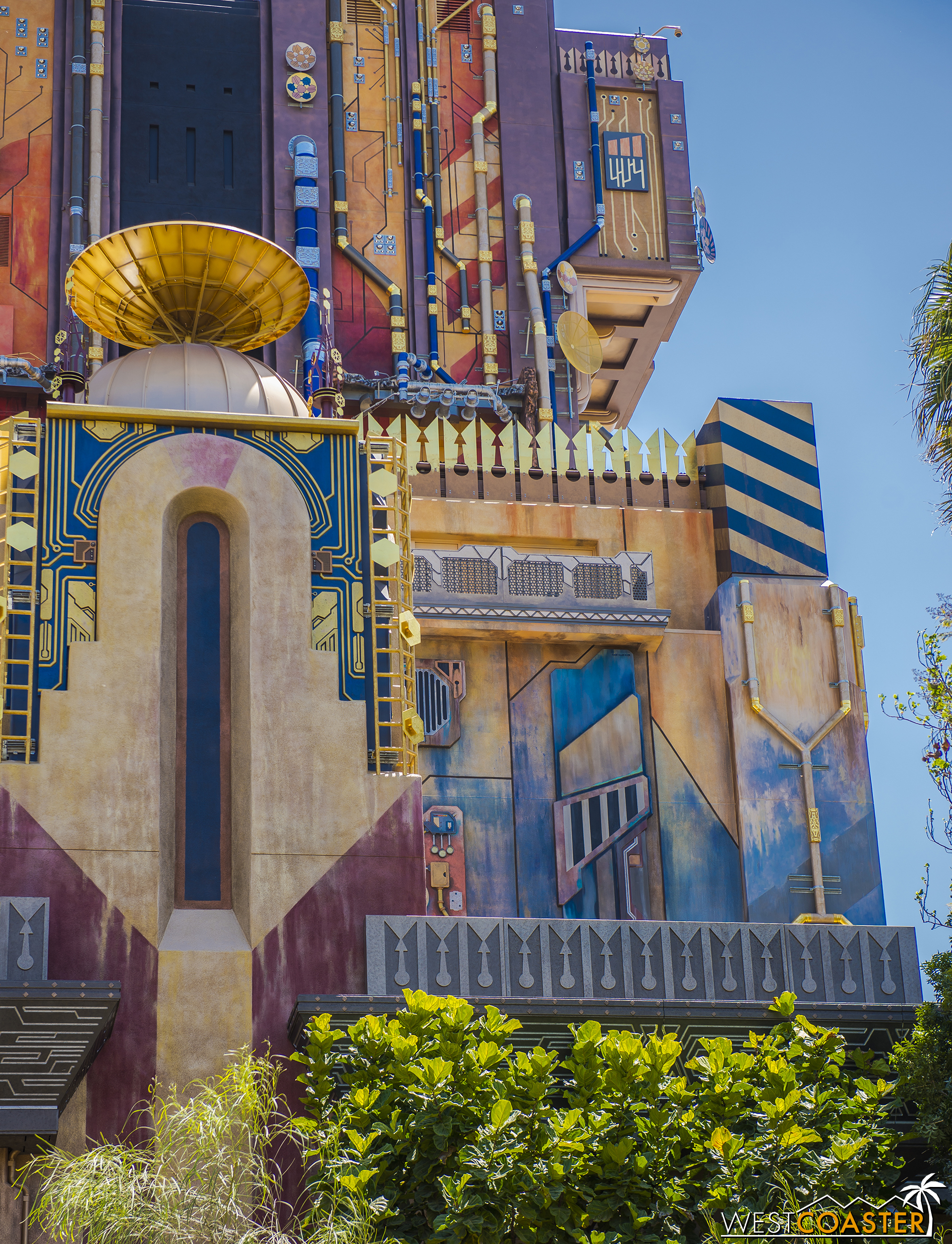 Well, that would be cool from my photographer's point of view.
As you can see from the various ladders scattered about, they're still touching up the exterior.
In the midday sun, you can see that the paint is not actually quite as vibrant as in my golden hour shots from past weeks.
Though DCA's own Pompidou Center still is certainly colorful.
Tight close-up's like this really do emphasize the similarities between this building and the (in)famous modern museum in Paris.
Perhaps these ladders will be left up as a video game level?
You've almost got to admire how full energy the designers went with this facade.
As though they briefly considered the conventions of tasteful design and decided instead to punch through that wall at 10 times the required force.
These detail shots certainly don't do any favors in reassuring those concerned with gaudiness.
It's as though someone playing Roller Coaster Tycoon 2 decided to test the limit to density of theming on a building.
In RCT, this would probably hit the sprite limit. ;)
I will say that the building is a little more palatable when viewed from afar.
Or perhaps that's just me getting used to things.
After all, when I was here with a friend on Sunday who had never seen the building in person, the first sight of Guardians Tower when we turned the street corner by Hyperion Theater literally gave her a visceral startle mixed with the type of fright that one might normally witness from a guest at Knott's Scary Farm.
But hey, again, to focus on the positives... the ride itself will probably be great. And despite all the hubbub, you know that the ride will be packed with long lines when it first opens. That's the Disney Way.
Other Things
I noticed a couple minor items as I walked around the park on Sunday, mainly related to refurbishments and their domino effect. Here's a brief list.
If you want an extended preview of the new Pirates movie, check it out in the old MuppetVision Theater in Hollywood Land.
Corn Dog Castle is currently closed at DCA's Paradise Pier.
As a result, the Garden Grill has a modified menu to accommodate those corn dog lovers--and also a fascinating Chicken & Waffles Skewer!
While I made sure to photograph the latest at "Star Wars" Land and Guardians Tower during my visit this past weekend, that wasn't my primary objective in visiting the Happiest Place on Earth. Instead, it was yet another edition of Dapper Day that held my camera's attention. On Sunday, thousands of Disney fans came together dressed in their Sunday finest, their most creative derivative Disney character outfits, and their most elegant vintage attire to take in the spirit of going to parks back in the mid-century days. Dapper Day Spring 2017 was another successful venture, but to see how things turned out, you'll have to come back tomorrow.
I know, such a tease, isn't it?
Albert Lam
Architect. Photographer. Disney nerd. Haunt enthusiast. Travel bugged. Concert fiend. Asian.