Disneyland Resort Update: River Guardians of the Star Wars Galaxy with ASIMO Pirate FastPasses
Disneyland Resort, Anaheim, CA
Aaaaaaand we're back! There was no Disney update last week, because I was off at Mammoth, skiing. And then I decided to just take the week off, because these updates are time and effort consuming. And... I guess that means a quiet week.
But we've got a lot to cover at the Disneyland Resort--enough to split into two updates, actually--so lets get right to it!
"Star Wars" Land
Welp, the cat's out of the bag. The big E-Ticket in "Star Wars" Land will be an epic ride that takes guests into an adventure against the First Order, while a second attraction will allow guests to pilot the Millennium Falcon. This might have actually already been officially announced months ago (I had been too lazy to check), but I was holding off on identifying things specifically until I was sure it was all public knowledge.
Work continues, and a good amount of progress has occurred over the past two weeks. For one, those "railroad trestles" have actually been installed as AT-AT bodies--impressive set pieces that are just one part of what is shaping up to be an incredible looking ride in both theming and scale. Lets have a look, shall we?
We start off with our usual overview pan of the site.
It's definitely getting a little more crowded.
Just last year, most of this was dirt.
And now? There's a ton of steel!
And since we last checked in, there's even been a new penthouse framed up.
Lets zoom in and pan across all that steel structure.
The penthouse adds a whole floor to the already imposing height of the First Order ride show building!
At the far end, you can see the AT-AT's standing.
They're certainly unmistakable.
A fresh shipment of new steel decking and framing has also arrived.
Another angle of the AT-AT's and penhouse. Also check out that roof access ladder.
At a certain point, our views of the site are going to be pretty obscured.
The top of the First Order attraction can even be seen from inside the park.
Over around the pit, more formwork continues to go up to allow further concrete pouring.
Guy Selga drool-worthy noodles.
And site grading has begun just next to the building.
Those would be be start of footings for another building.
Over at the Hungry Bear side, any visibility of progress on the "back" entrance into "Star Wars" Land has been obscured by all those dang trees they've added to the raised berm that separates the Rivers of America from "Star Wars" Land.
In the back of the site, by Mickey's Toontown, framing progresses on the not-Millennium Force show building.
JIM: I THINK YOU MEAN MILLENNIUM FALCON... JEEEEEEEZUS, ALBERT...
AL: This is why I shouldn't write when it's late...
I still say it should be a pun-filled food service place.
Slowly but surely, it's coming together.
A good amount done, but still more to go.
Finally, we'll focus on the back wall that separates "Star Wars" Land from the Rivers of America and Frontierland.
One of the two tunnels forming the main entrance off Big Thunder Trail.
More trees have been added along the berm, obscuring some of the construction previously plainly visible.
These basically form a green buffer between lands.
We'll be focusing on this area less, now that it basically all looks like this.
Unless something major happens, of course.
Slight glimpses of progress of Tarzan's Treehouse.
Still kind of tough to tell much, though,
Mickey and Friends Parking Updates
The transportation building continues its work, while some helpful more prominent way-finding signage has been added to the security plaza of the Mickey and Friends parking structure.
The roof decking is complete on this transportation building, and now they're starting to apply the actual roofing membrane.
At the security plaza, they've put larger and bolder signage directing where to go for the two main pedestrian options.
Go through security here, or bypass it via the route in the previous photo and get checked by security at the Downtown Disney entrance.
Rivers of America
Work continues along the Rivers of America in preparation for its reopening in July. Most of this is occurring backstage, though since our last extensive updates, I've noticed a few theming elements placed to hide new infrastructure for FANTASMIC! 2.0. Rockwork and nature-crafting continues along the drained part of the river as well.
Oh look, that boat seems new.
A nice hiding place for a projector, or something similar for a nighttime extravaganza, no?
The revamped Tom Sawyer Island is subtly different but looks pretty fantastic! There are just little touches that make the island richer and more rustic.
All quiet on the literally dammed front.
Cosmetic refurbishment work on the island itself appears largely complete.
One or two weeks ago, it was being reported around the internet that Disney was having some trouble getting roving projection mapping to correct display onto actors positioned on a moving S.S. Columbia as part of the new FANTASMIC! 2.0 rehearsals.
I'd love to know how that was even attempted, given that the Columbia has been in a dry dock this entire time and thus unable to actually "sail," but hey, what do I know...
A glimpse over the work walls by Critter Country shows more progress on the rockwork.
Look at all those fake rocks.
JIM: DON'T TELL ME HOW TO LIVE MY LIFE.
The Mickey and Friends parking structure still remains semi-prominent from this angle.
But you can see the added trees already playing a difference in sight lines.
This will undoubtedly look fantastic once completed.
After all, Disney is pretty good with theming rocks. Also, here's an elevated view, with that big concrete wall in "Star Wars" Land beyond.
Guardians of the Galaxy - Mission: Breakout!
A week and a half ago, a significant portion of tarps came off at the ex-Tower of Terror, revealing part of the facade of the new Guardians of the Galaxy attraction. To be honest, I don't think it looks as bad as I feared based on the rendering. On the other hand, it doesn't exactly look great either; I was just expecting really, really, really poor aesthetics, and this is maybe one less adjective than I figured. On an island, this might actually be okay. In context, it's still obviously glaring and garish--and very much Tomorrowland 1998 Revival. But it is what it is. All the whining in the world won't change the direction they're headed.
Here's a bunch of photos showing off the revamped show building!
For once in my life, I managed to take an empty scene daytime photo with almost no one in it--in which no one else entered the scene a split second before I was to take the photo.
The transformation of the Tower of Terror has been revealed in pretty visible degree.
Work is now going on at the roof and facade of the lower volume housing the entrance of the ride.
It looks like the sloped roof is getting some modifications to look less so.
Meanwhile, that looks a bit like something is trying to break out. SeewhatIdidthere?
The tower itself continues to look more and more like the Pompidou Center in Paris and 1998 Tomorrowland had a torrid one night stand and popped out a baby.
The elements themselves actually don't look completely terrible--if considered in a vaccuum.
I mean, it would be an interesting design for a T-shirt.
The bold colors certainly make this stand out.
Although I suppose that's not a redeeming factor for some.
This will surely receive many splashes of color soon.
One of the lower towers has also been uncovered.
I mean, the dish is cool...??
If this was Tomorrowland. Or maybe Tokyo Disney Sea's Port Discovery.
Go bold or go home, I guess.
Isolated like this, I don't think this looks terrible. It just fits in horribly into "Hollywood Land."
As an architect, I can say that site and context matter a lot.
Looking at the side of the building.
Did you figure out the Hidden Mickey I referenced in the update two weeks ago? It was this cute Sorcerer Mickey hook at the crane hoisting the banner!
Of course, this attraction will have far-flung visual impact all around the park. Lets look at that view from various angles, like A Bug's Land.
Moving over to Cars Land.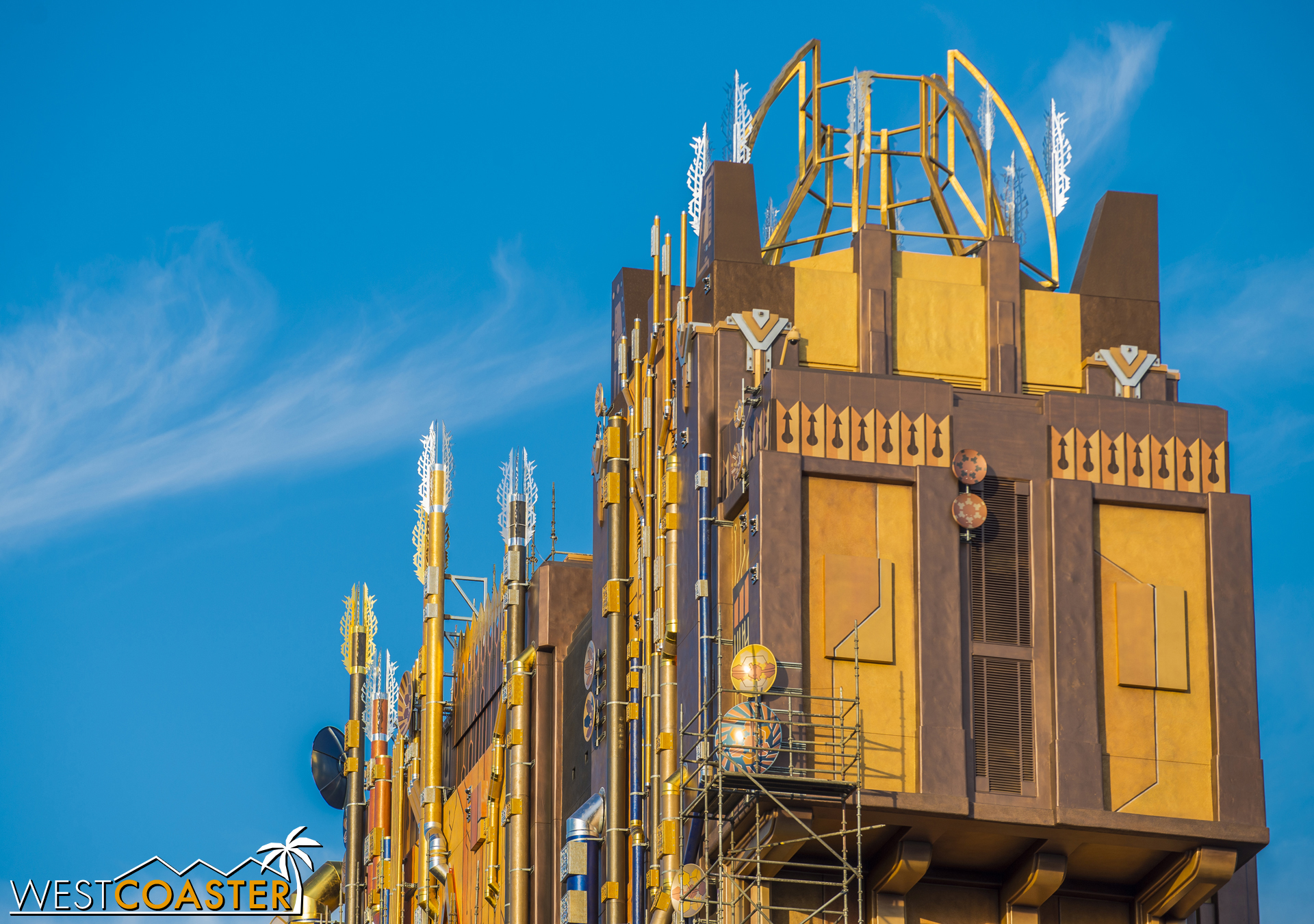 Adornment central is the name of the game with this exterior design.
And the view from Pacific Wharf.
And there's also the approach toward Carthay Circle from Grizzly Peak Airfield.
FastPass Changes and MaxPass Additions
This is actually old news, but over the past few weeks/couple of months, Disney has quietly been installing MaxPass machines at its FastPass attractions in preparation of its new system roll-out. If you missed it, the Disneyland Resort will be offering an electronic FastPass reservation system as an upcharge called the MaxPass that will utilize the Disneyland app and enable purchasing guests to reserve FastPasses without physically going to a station, and I believe also allow guests to meet Goofy's son. The service also provides free downloads of PhotoPass pictures taken that day, all for $10 per person. Consider it Southern California's version of the Magic Band. Sort of.
Tower of Terror--I mean Guardians of the Galaxy--has FastPass. It will soon be getting MaxPass.
Toy Story Midway Mania is getting FastPass, which also means MaxPass.
Basically, the MaxPass "machines" are the bollard towers at the entrance of the FastPass line.
This is where guests using their mobile phones can scan in to redeem their MaxPass reservations.
At some FastPasses, reminders have been added to return within the hour of the FastPass return time window. No longer are guests being allowed to use their FastPasses after the time has expired. This closes a loophole that guests used to exploit en masse and puts the policy in line with the international parks.
Also, FastPass distribution for World of Color has been moved away from Grizzly River Run and over to the side of The Little Mermaid: Ariel's Undersea Adventure building, facing across the Victorian San Francisco houses facades.
The MaxPass addition isn't limited to Disney California Adventure.
Disneyland FastPass attractions are getting them too--including some rides that I don't think really need FastPass.
Another MaxPass pair of bollards.
A pair at Space Mountain too.
And even at Buzz Lightyear, which along with Haunted Mansion represent two rides whose capacities are more adversely impacted by FastPass than usual, and which definitely don't need it (Mansion even used to have it regularly, and then it was removed due to capacity complications).
Big Thunder Mountain also has a new entrance structur. No MaxPass bollard that I could see yet, though.
I thought this new child's height measuring device was pretty adorable.
Ride Statuses
Several rides and attractions have reopened, while others remain under refurbishment. Of particular focus below is Pirates of the Caribbean, which celebrated its 50th anniversary the previous weekend with a fun little limited-time event. The ride itself reopened in time for its big birthday, and it looks pretty great! Also, under less fanfare, the Autopia received a modest refresher to its theming that's kind of cute.
The Redwood Creek Challenge Trail has reopened over in Disney California Adventure.
So has Grizzly River Run.
Guests can get soaked to the max again!
The Matterhorn Bobsleds remain closed, however. This is the other ride that will be receiving FastPass for the first time.
Over in Tomorrowland, the Autopia has been given a little freshening up.
With the new Honda sponsorship, the theme of the ride now includes scenes with the robot ASIMO as he engages in driving/road trip adventures with his robotic bird friend.
I, for one, welcome our new robot overlords.
Finally, Pirates of the Caribbean is back open, so here are a bunch of on-ride photos, because even I'm not immune from wanting to show off sometimes (seriously; if you do any Disney park photography, you know how hard this shot is to pull off).
The shipwrecked pirate has now gotten a bit more fabulous with the addition of a feathered boa around his rudder.
I defy you to tell me that was NOT a feathered boa!
The ride is pretty much the same as before.
Pirate treasure and such.
The Davy Jones projection has been fixed and now works! Unfortunately, the projector is still not quite focused crisply.
Captain Barbossa demands the location of Jack Sparrow.
The ruffians threaten Carlos the Mayor, but he ees not cheecken.
C'mon. Most people wants a redhead.
'Member when Jack was actually a lass missing her negligee?
You know that pirate just wants to grab them...
"YO HO YO HO A DERP FACE IS ON ME!!"
Club 33 is actually not the only place one can drink in Disneyland Park. Pirates is where all the animatronics go to get drunk.
Will they ever get the key?
We end with the shoot out.
Not very safe gun practices.
Not that Derp Face Jack Sparrow cares.
That wraps up today's lengthy look at the Disneyland Resort. But wait! There's more! I took a bunch of photos of this year's springtime blooms at the Disneyland Resort, plus shots of the updated Remember... Dreams Come True fireworks show with projections. Look for that tomorrow as an eye candy-focused supplement to our Disney update.
If you like the Disney photos, I'll provide a cheap plug and encourage you to frequent my Disney park photo blog site, Disney Photoblography, which provides a post everyday featuring some Disney park somewhere around the world!
Groot Bah!!
Albert Lam
Architect. Photographer. Disney nerd. Haunt enthusiast. Travel bugged. Concert fiend. Asian.